Svartaþoka frá Borgarnesi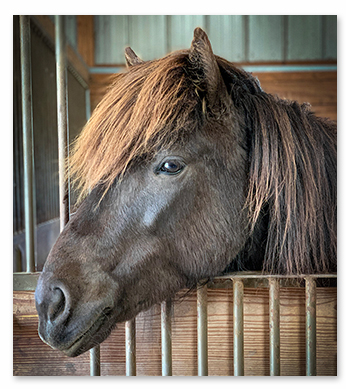 IS2013236660
S: Sólon frá Skáney
SS: Spegill frá Sauðárkróki
SD: Nútķð frá Skáney
D: Flugþrá frá Kaðalsstöðum 1
DS: Brynjar frá Árgerði
DD: Hrafnhildur frá Kópavogi
Svartaþoka ("black fog") is a tall (14h) and beautiful five gaited black/brown mare with huge, sweet eyes that tell you a lot about this special mare's character. She is as calm, sweet, and gentle as they come. Svartaþoka is simply one of those very rare horses that was born with a naturally easy temperment that makes her a great choice for any rider - but especially those that are new to riding or need confidence. Add to this that she is a stunning beauty and a pure natural tolter - and you get an amazing horse that almost anyone can ride.
It's no wonder that Svartaþoka has a great character. Her sire, the first prize stallion Sólon frá Skáney, is well-known for producing very easy, dependable horses with excellent character. He also clearly passes along his good looks and talents having also received first prize for the quality of his offspring. Svartaþoka's dam, Flugþrá frá Kaðalsstöðum 1, has also produced some nice riding horses. With these strong genetics and her own positive qualities, Svartaþoka would also be suitable to use for breeding as well as riding.
Though it would be hard to give her Svartaþoka up as a riding horse! Each time we go to Iceland we look for horses like Svartaþoka, and trust us, they are extremely hard to find. She is extordinarily sweet, calm, and forgiving. In the summer of 2019, when she was only six years old, she was a small child's main trail riding horse (and valuting partner!) in Iceland. There are not many six year old mares that would be charged with that kind of responsiblity! But Svartaþoka is just that special.
In addition to her great character she also has a very natural tolt. It can be a little pace beated at times, but always very smooth. She will tolt for anyone. Bur she also has a very pleasant and soft trot and a nice smooth and easy canter. But no worries - she won't canter or go fast unless you ask. She would much prefer to glide along in tolt - and let's face it, you probably will too! In addition to her natural talents she is also well-educated and would enjoy doing lessons, clinics, and other activities with you as well as trail riding. She is always up for spending time with you and having fun. Though she is calm and easy, she isn't lazy or a dead-head. She is a willing partner and has good stamina for a day on the trails.
Whether you are looking for your first horse, a horse for the whole family to enjoy, a horse to give you confidence, or a horse that can safely carry your husband/guest/friend out on the trail Svartaþoka can do it all! And if you are interested in a foal, she could even be bred to our amazing stallion Strįkur frį Vatnsleysu before she leaves.
To view many more photos of Svartaþoka
please visit her photo album.
For more information on Svartaþoka please contact us.