Töfri frá Sámsstöðum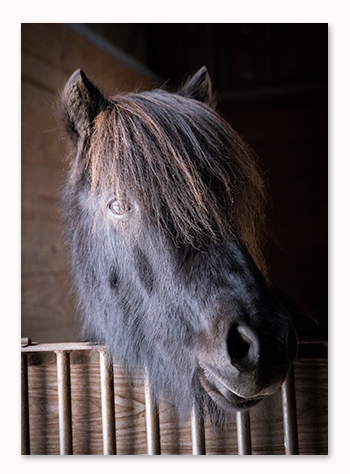 IS2008165514
S: Gígjar frá Auðsholtshjáleigu
SS: Orri frá Þúfu í Landeyjum
SD: Hrafntinna frá Auðsholtshjáleigu
D: Orka frá Höskuldsstöðum
DS: Gáski frá Hofsstöðum
DD: Blika frá Höskuldsstöðum
Töfri's name means "magic" - and this handsome black gelding with a star sure is magical. His tolt is like a magic carpet ride - the smoothest we've ever ridden!
Töfri's pedigree is filled with amazing horses. His sire, Gígjar, has a total score of 8.46 overall, with an outstanding 8.78 for rideability, including a 9 for tolt, 9 for trot, 9 for general impression, and a 9.5 for spirt. In addition, he has received 1st prize for the quality of his offspring. Gígjar's sire is none other than the great Orri frá Þúfu and his dam the first prize mare Hrafntinna frá Auðsholtshjáleigu that scored a 9 for temperament and a 9.5 for flying pace. Töfri's dam Orka is also a first prize mare, and a daughter of the legendary honor prize stallion Gáski frá Hofsstöðum and the first prize mare Blika frá Höskuldsstöðum. These great horses combine in Töfri to make him a super riding horse.
Töfri is an absolute tolting machine. His tolt is very correct in beat and he is capable of a wide speed range with good movements. Not only that, but it is unbelievably smooth. He is very self-assured, proud horse, with a lot of confidence and spirit. Having been on many rides in the mountains of Iceland he is physically and mentally strong. A true luxury trail riding horse for a more experience rider that wants the true Icelandic experience! We look forward to getting to know Töfri better this riding season. Zoom zoom!
To view many more photos of Töfri,
please visit his photo album.