~ SOLD ~
Álfadís from Sand Meadow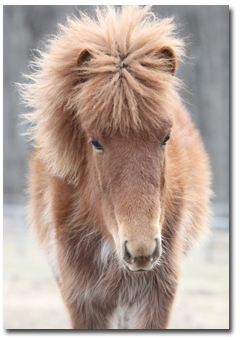 9 months old
USIHC Registry No. US2012204645
Born: June 30, 2012
S: Hrókur frá Hlemmiskeiði 1A
SS: Piltur frá Sperðli
SD: Bylgja frá Ey I
D: Sædís frá Melabergi
DS: Roði frá Múla
DD: Sveifla frá Bakka
Álfadís ("goddess from the fairyland") is perky chestnut filly. This little girl has a pleasant attitude with a lot of expression. In the field she is bubbling over with loads of natural tolt, tolting wherever she goes. The daughter of two exceptional horses, a first prize dam and a sire with a 9.0 for tolt, Álfadís has a bright future ahead of her as a versatile horse for the entire family.
Both Álfadís' parents are awesome tolters and this filly is already showing that she has inhertied their talents. In the field she mostly chooses tolt, but also shows some trot and a pretty three beat canter. Without a doubt she will be a super smooth trail horse and is also promising for the show ring. Her character is very dainty and sweet. She is curious and brave – friendly without being pushy. Had we not already decided to keep two other offspring from her dam we would be keeping Álfadís' as well – she is that special. She is an ideal choice for somebody looking for a very special horse that they can purchase as a youngster for a reasonable price and build a relationship with.
To view many more photos and video of Álfadís please visit her photo/video album.
Tolting in the field at 9 months old