Eldar frá V-Stokkseyrarseli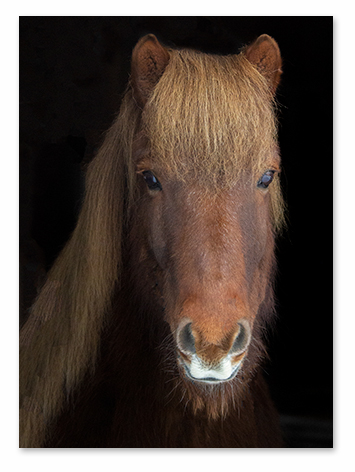 IS2009182357
S: Krákur frá Blesastöđum 1A
SS: Töfri frá Kjartansstöđum
SD: Bryđja frá Húsatóftum
D: Rák frá Halldórsstöđum
DS: Sörli frá Halldórsstöđum
DD: Hátíđ frá Halldórsstöđum
Eldar is a handsome gelding with a rich chestnut color. He has a sweet, sensitive, and intelligent character that we love. Eldar is like a person in a horse body. He has had a lot of experience in Iceland, both out on the trail and in shows and we are excited to have him part of the Sand Meadow herd.
Eldar is a son of the famous stallion, Krákur frá Blesastöđum 1A. Krákur was evaluated first prize overall, including a score of 9.5 for his stunning tolt. Krákur also has received the award of 1st prize for the quality of his offspring. Eldar's grandsire on his father's side is the famous Töfri frá Kjartansstöđum, also evaluated first prize with a 9.5 for tolt. Both Krákur and Töfri are well known for their beautiful elegance and high movements. Eldar's dam, Rák frá Halldórsstöđum, is a first prize mare that has been a very successful breeding mare. All three of her evaluated offspring are first prize, and several of her offspring are successful competition horses. All these fine genetics have come together to make Eldar a great riding horse.
We look forward to getting to know Eldar better under saddle this season!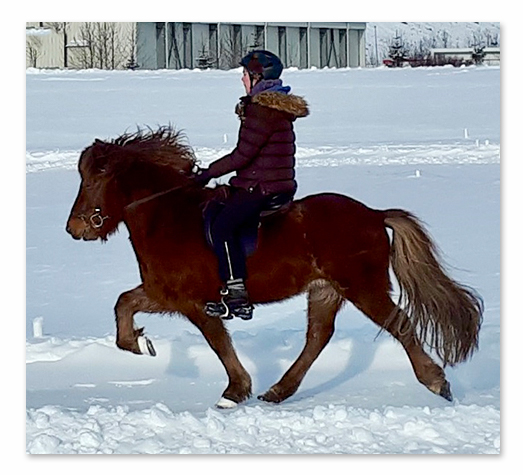 Eldar competing in Iceland with a youth rider
To view many more photos of Eldar, please visit his photo album.