Gima frá Ytra-Dalsgerði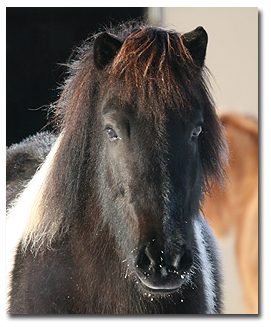 US1997202845 - IS1997265791
S: Stígur frá Kjartansstöðum
SS: Náttfari frá Ytra-Dalsgerði
SD: Terna frá Kirkjubæ
D: Gígja frá Ytra-Dalsgerði
DS: Kjarval frá Sauðárkróki
DD: Skeifa frá Ytra-Dalsgerði
Head – 7.5
Neck/Withers/Shoulders – 8.5
Back/Hindquarters – 8.0
Proportions – 9.0
Quality of Legs – 8.0
Leg Structure – 7.5
Hooves – 8.0
Mane/Tail – 7.0

Total Conformation – 8.2
Tolt – 8.0
Trot – 7.5
Pace – 8.0
Canter/Gallop – 7.5
Willingness/Temperament – 8.0
General Impression – 8.0
Walk – 7.5
Slow Tolt – 7.5
Slow Canter - 7.0
Total Ridability - 7.89

Total 8.01
Gima is a first prize black pinto mare. She is excels as both a riding and breeding horse. Gima has so many incredible attributes it's hard to even know where to begin!
Gima's bloodlines are nothing short of Icelandic royalty. Her sire, first prize Stígur frá Kjartansstöðum, is a honor prize stallion and comes from a line of honor prize stallions (S: Náttfari frá Ytra-Dalsgerði, SS: Sörli frá Sauðárkróki) that are well known for producing many of Iceland's most exceptional riding and breeding horses. In addition, Stígur's dam, Terna frá Kirkjubæ, has proved to be a legendary mare in Icelandic horse breeding. The bloodlines of Gima's dam, Gígja frá Ytra-Dalsgerði, are no less impressive. Gígja was never evaluated for ridden abilities, but she received a first prize score for conformation of 8.13. She has also proved her value well as a breeding horse as all her evaluated offspring are first prize. Gígja's sire is the great first prize and honor prize stallion Kjarval frá Sauðárkróki. Gígja's dam is the first prize mare Skeifa frá Ytra-Dalsgerð, who must have been an extremely talented mare as most did not even bother to have mares evaluated back in those days. All these impressive bloodlines come together in Gima to give her incredible genetic strength.
Gima is a horse that immediately stands out from the crowd. Not only because of her large size (14 hands) and beautiful color (black pinto), but because of her exceptional conformation. In issue 3 of 2008 Eidfaxi ran a photo of Gima with a caption that read, "A modern horse, with long legs, a light rump and an elegant neck." Gima has plenty of bone and substance, but is elegant with a well raised long neck and long legs. Her strong conformation allows her to do her job as a riding horse with ease. With a total score conformation score of 8.2 she is one of the most highly evaluated mares in North American for conformation. In 2008, two of Gima's half sisters, Ísafold frá Ytra-Dalsgerði and Lúta frá Ytra-Dalsgerði, were also pictured in Eidfaxi to show examples of excellent conformation in performance horses
Gima's ridden abilities are no less impressive. She is a true five gaited horse with a soft, supple tolt and impressive fast flying pace. Like all of our breeding horses Gima's tolt is a natural clear four beat and she requires no special shoeing or other enhancements. She is capable of tolt in all speeds. Her trot and canter are also easily accessible to the rider and clear in cadence. And to top it all off she has secure and fast true flying pace! She is spirited but easy to control and enjoys work in on the track, in the ring or going on trail rides. Gima is well schooled and a joy to ride.
Her great talents and strengths aside, Gima is an exceptionally sweet horse that is a pleasure to have around. She is easy to do anything with and confident and self-assured out on the trail. We have used her primarily as a pleasure riding and breeding horse - but she can also be successfully shown. She has recently (2015) been successfully ridden in sanctioned sport competitions by youth riders. Her natural clear beat in tolt and easy, safe flying pace have made her the perfect horse to try five gait or pace events. Her super smooth gaits and level head also make her a Beer Tolt queen! She is the kind of horse that you can take to a show - and the next day go for a nice relaxed trail ride. Because of all this she is our #1 lesson horse. We are proud to have her as part of our herd.
To view more photos of Gima, please visit her photo album.
Gima's Offspring:
2010 - Aska from Sand Meadow - black filly
2011 - Sokkadís from Sand Meadow - black pinto filly
2012 - Kleópatra from Sand Meadow - black filly
2013 - Loftsteinn from Sand Meadow - bay pinto colt

We are proud to announce that three of Gima's offspring – Loftsteinn, Kleópatra, and Sokkadís - were in the top five highest evaluated young horses of 2013 out of approximately 60 horses – with Loftsteinn and Kleópatra holding spots 1 and 2! This is excellent proof of what a terrific breeding mare like Gima can produce.
Gima competing in Iceland
We plan on riding Gima in 2018, however, she may be available for breeding lease.
For more information on Gima please contact us.